No matter how healthy we eat and how much we exercise, we still sometimes have noticeable areas of body fat that keep us discontented with our appearance. Non-invasive, fat-reducing procedures like Liposonix are a good alternative for those who just need a last bit of help to achieve the look they want*.
How Does Liposonix Work?

Liposonix is a medical procedure that uses concentrated ultrasound waves to destroy fat cells, breaking them down so that the body can absorb them and give you a smooth, healthy appearance. It takes about 8-12 weeks for the cells to disappear*. Some patients can achieve their desired results in one sitting, while others may need one or two more sessions*. Depending on the size of the area you wish to have reduced, it can take roughly 30-60 minutes to complete one session*.
What Does Liposonix Feel Like?
During the procedure, patients have described feelings of discomfort, cold, prickling, tingling, or warmth, though all symptoms have been described as mild. Your doctor may prescribe a pain reliever to you prior to the procedure, to help minimize any pain.
After the session, the treated area will likely be red and swollen, which fades to bruising and tenderness after a few days. However, these symptoms are often mild enough that patients have been encouraged to go about their daily lives, even exercising, all in the same day of treatment*. Compared to liposuction or plastic surgery, you're back on your feet in no time at all*.
What Kind of Results Can I Expect?
So long as you maintain proper weight and diet, this procedure can last long-term. Because the fat cells are destroyed and removed naturally by your body, they are unlikely to return. Additionally, the skin of the treated area remains undamaged and doesn't become lumpy or saggy, unlike what you might see with liposuction. Some patients even describe a tighter look to their skin, making the area appear more youthful*.
Who is a Good Candidate for Liposonix?
While every patient is different, some important requirements for Liposonix include*:
Be able to "pinch-an-inch" (2.5 cm) of fat in the treatment area
Have good overall health
Have realistic expectations about the results
Additionally, patients who are between 10-15 pounds of their goal weight often get the most benefits out of Liposonix*. This technique is not meant to treat obesity, but rather to help those who need assistance to achieve their desired appearance, where diet and exercise aren't working.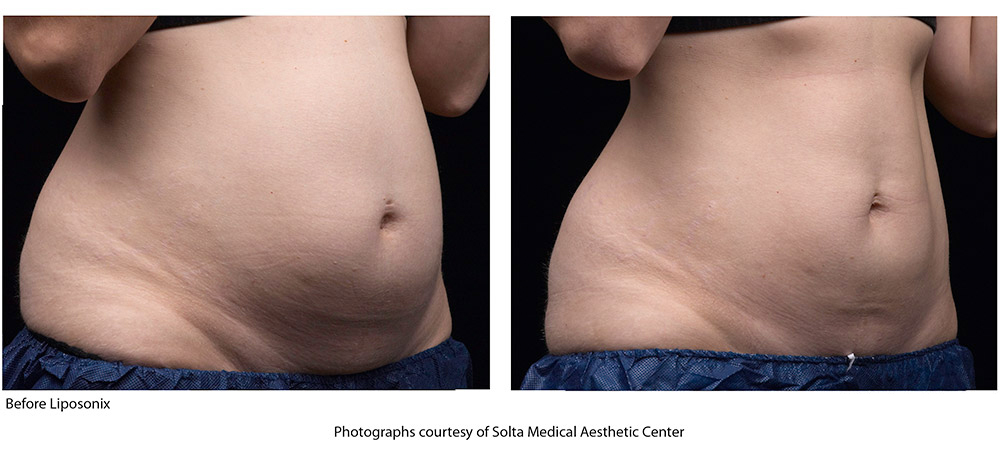 To find out if Liposonix is right for you*, contact us or call for a consultation.