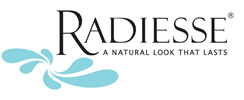 If you're looking for overall smoother skin and a more plump appearance to your face, Radiesse is a perfect choice for an injectable dermal filler. Radiesse is rated for usage on the face as well as the hands where volume is often lost due to age, and is known as a facial volumizer rather than a wrinkle filler. Radiesse can be used to add volume to hollow or deep areas in the face.
Even better, Radiesse can help stimulate the production of your body's own natural collagen, allowing you to enjoy long-lasting results even as Radiesse is metabolized by the body*.
What is Radiesse?
Radiesse is an injectable dermal filler that is more like a "gel". It is made of synthetic calcium hydroxylapatite, not dissimilar to calcium found in your bones and teeth, suspended in a gel. When injected, it immediately shows noticeable volume.
How does it work?
Radiesse is injected through a small needle under the skin to increase volume and smooth out wrinkles and fine lines. Radiesse can be used to treat smile lines, nasolabial folds, wrinkles, and age-related folds around the nose and mouth. Radiesse also works with your body to stimulate collagen production, allowing your body to create more of its own natural volume*, which can help you retain a long-lasting youthful appearance.
How long does it take to see results?
Patients can see results immediately after Radiesse is injected. Treatments generally take about fifteen minutes to perform, with little to no downtime. Some patients may experience minor temporary swelling at the injection site.
How long does it last?
One year or longer*. Radiesse is slowly metabolized by the body and eventually absorbed. As Radiesse is metabolized, the synthetic calcium hydroxylapatite leaves behind what are called microspheres, which helps to support your weakened skin and promotes the production of new collagen.
Ready for a new look? Contact Abington Aesthetic & Laser Medical Center today to schedule your consultation!
Book your appointment online now!