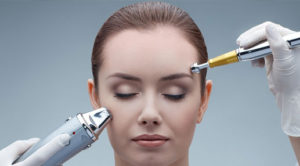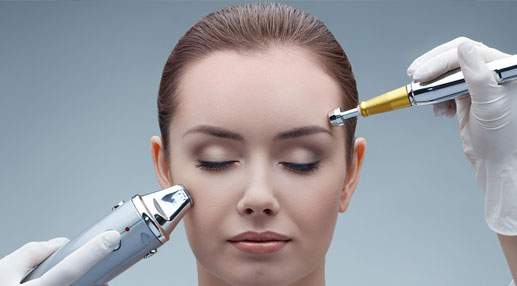 Everyone has a want or a need cosmetically. While many people say "be happy with yourself" and "you're already perfect", many people live day to day with cosmetic issues that can dampen their moods. Sometimes, you can even feel guilty or regretful over your skin. Maybe you have acne scars that remind you of when you were younger and struggling with your looks in high school, or perhaps you had an ex-lover's name tattooed on you that you just want gone*. It's easy to say "you're perfect already" when you don't look in the mirror and find something that you know can be fixed with a quick and easy treatment option.
That's why we are here. We can provide you with a variety of treatment options to help you perfect your skin so you can look that way that you want to look. Whether it's regret, age, a medical condition, or anything else in between that has caused you to be unhappy with your appearance, we can help you get you to look (and feel) more vibrant, radiant, and more like… well, you!
I want to reduce excess and unwanted hair
Want to reduce the look of dark, unsightly, long hair on your body? If you want to reduce your body hair, whether it's hair in the arm pits or hair on your upper lip – your "woman mustache" — we can do it all at Abington Aesthetic. Our laser hair reduction treatment is fast and long-term with little discomfort*. It's safe for all skin types and is easy as well as non-invasive to undergo.
I want to reduce fat
Though working out and eating right have been tried and true methods for reducing fat and improving overall health and appearance, some areas of the body are just plain resistant to these techniques. Fat deposits on the hips, thighs, stomach, buttocks, and the back of the biceps are notoriously stubborn, and sometimes clients need a little bit of help to achieve the look they want. Fortunately, there are a variety of fat reducing procedures that can help to smooth out bulging fat and shape your problem areas into a more pleasing, confidence-building appearance*.
I want to remove my unwanted tattoo
Clients may seek tattoo removal treatment for a number of reasons; allergic reaction, employment requirements, regret, or in preparation for replacing one tattoo with another. At Abington Aesthetic and Laser Medical Center, we'll walk you through the steps necessary to help you reduce the look of your old tattoo in a clean, comfortable environment*.
I want to reduce scars and acne scars
Everyone knows that acne is embarrassing and unsightly. Teenagers aren't the only people who experience ongoing acne. Acne can occur late into adulthood and can continue to plague people. If you're done using creams and avoiding chocolate and fatty foods as well as trying to listen to every myth in the book about acne prevention, Abington Aesthetic may be able to help*.
I want to reduce skin discoloration
As we grow, our skin is subjected to a variety of environmental and age-related changes. Discoloration is a prominent skin change that has many causes, and can be especially noticeable on the face, neck, and chest as dark or light patches, redness, and mottling.
I want to remove spider veins and varicose veins
Some people are more prone to spider veins and varicose veins than others. Unsightly and dark veins in purple, blue, or green often come to the surface under thin and transparent skin. Sometimes tanning can help reduce the sight of these veins, but sometimes spider veins or varicose veins can be in very apparent spots. Abington Aesthetic has the perfect solution for you*.
I want to reduce wrinkles
Whether you're looking to reduce smile or frown lines, wrinkles in the forehead, crow's feet, or any other variation of sagging or loose skin, Abington Aesthetic can help you look more youthful and be happier overall with your appearance*. We tackle obstacles such as turkey neck and marionette lines every day and our trained professionals are sure to help you create a more youthful appearance*.
I want to tighten my skin
Do you suffer from sagging skin? You're not alone. Age, sun exposure, and more can affect the elasticity of skin. Everyone suffers from skin that is just not as tight as it used to be. Whether you're suffering from turkey neck, under the chin sagging skin, sagging around the eyes and mouth, or more, we have treatment options available for most needs*.