If you're unhappy with your skin – you have age spots and discoloration, you have sagging, wrinkling, or other undesirable traits that come with aging – we have the perfect solution for you. With our Fraxel treatment, you can enjoy real, long-term results that reduce the look of aging*.
What can Fraxel do for you?
With Fraxel laser treatment, you can*:
Reduce fine lines and wrinkles
Tighten sagging skin
Reduce the appearance of scars, such as from acne
Reduce discoloration and pigmentation flaws
Heal dangerous skin damage
Fraxel can also be effective on pre-cancerous skin conditions such as Actinic Keratosis
What is Fraxel? How does it work?

Fraxel is a form of fractional laser treatment performed via laser technology. The Fraxel laser creates a controlled "micro-injury" to the skin, about the size of a pinhole, which allows heat to enter deep in the skin stimulating the skin's natural collagen. This helps to rejuvenate skin from the top down, allowing skin to look smoother, more consistent, and overall more youthful*. You can begin to see results after even just one treatment*.
How long does it take? What does it feel like?
Fraxel treatments take between 15 to 45 minutes to perform, depending on the amount of damage and the size of the treatment area*. Since Fraxel utilizes the natural processes of the body to break down and replace skin cells, individuals usually see results in 1 to 3 weeks*. Most patients state that after treatment the area might feel as if it had been "lightly sunburned".
Is Fraxel safe?
Fraxel was the original fractional laser treatment available on the market. Both FDA approved and with 10+ years of being on the market, Fraxel, when performed by a licensed and trained professional, is extremely safe.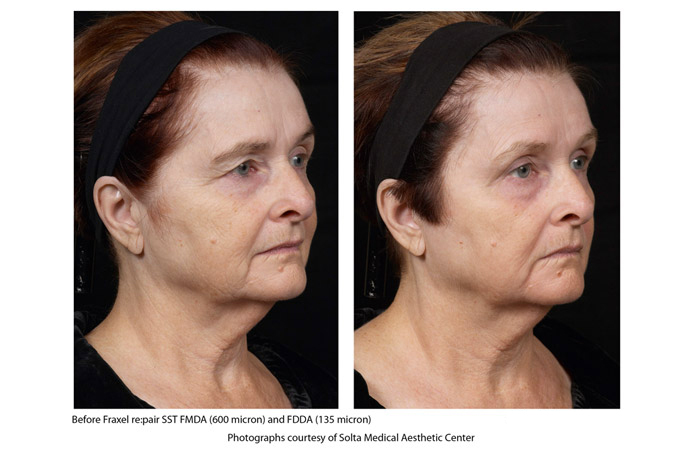 Fraxel Dual
Fraxel DUAL is a non-ablative fractionated resurfacing laser. The name Fraxel Dual comes from the laser having two wavelengths (1550/1927). Fraxel Dual wavelength 1927 helps with pigmentation issues in the skin. This includes discoloration, sun spots, and age spots. The 1550 wavelength helps with fine lines, skin texture, and acne scarring. This laser treatment targets aging and sun-damaged skin with microscopic laser columns. It penetrates deep into your skin to expedite your body's remodeling of collagen. Unlike Fraxel Repair, there is very little downtime after a Fraxel DUAL treatment.
This latest treatment will leave your skin Smoother, fresher, and younger-looking. Fraxel DUAL also helps reduce unwanted brown spots, reduces fine lines and wrinkles. With Fraxel Dual, scars formed by acne and surgery can improve over time. Improve your skin tone and texture today!
Treatment pricing will vary depending on individual skin conditions and desired clinical outcomes.
Ready for a more even skintone*? Contact us today to schedule your appointment!