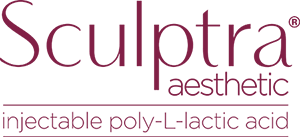 Do you want a more permanent, lasting solution to age lines? Look no further. Sculptra Aesthetic may be right for you.
Most dermal fillers work by adding to an existing facial structure and filling out creases. Sculptra Aesthetic is a product which goes above and beyond. An injection of Sculptra Aesthetic deep into the dermal layer acts as a reinforcement to your underlying facial structure where it works to spur the production of new collagen.
Unlike other fillers, Sculptra Aesthetic is injected into broad, flat, firm parts of the skin as a way to bolster areas around it and increase collagen production throughout the face and neck. This can help you achieve an overall fullness rather than focusing on just one spot.
What is Sculptra Aesthetic?
Sculptra Aesthetic is made from a proprietary form of poly-l-lactic acid (PLLA). While this compound is synthetic, it closely mimics the same lactic acids which appear naturally in the body. Dermal fillers like Sculptra Aesthetic work to smooth out fine lines, deep wrinkles, nasolabial folds, and acne scars by creating fullness under the lines. Sculptra Aesthetic is approved by the FDA for facial lipoatrophy, or the loss of fat in the face.
How does it work?
Sculptra Aesthetic's design allows for the stimulation of natural collagen production, allowing for natural, real results*. In composition, Sculptra Aesthetic is most closely related to dissolvable stitches used in dental surgery, and acts in much the same way, absorbed into the lower dermal layer. Sculptra Aesthetic is injected into the dermis and can decrease the look of fine lines and wrinkles by stimulating collagen production naturally created by the body*.
How long does it take to see results?
Sculptra Aesthetic does take time to work, because it needs to act on your body's natural collagen production and push your skin to replenish itself. The effects of Sculptra Aesthetic can be seen in several weeks*, usually four to six weeks*.
How long does it last?
Sculptra Aesthetic's results can be seen for up to six months*. After that, your body will naturally absorb the dermal filler and break it down.
What you should know…
In any use of Sculptra Aesthetic, there may be temporary redness, itching, tenderness, or bruising at the injection site. In some cases, small red bumps may appear – if this occurs, speak to your practitioner about a massage technique to help the product absorb into your skin. Unlike other dermal fillers, Sculptra Aesthetic is irreversible. As with all dermal fillers, only get Sculptra Aesthetic treatments from a board certified dermatologist or plastic surgeon.
Ready for a new look? Contact Abington Aesthetic & Laser Medical Center today to schedule your consultation!
Book your appointment online now!