Are you having trouble getting rid of those last few pesky pounds? We understand! Sometimes no matter how many squats and crunches you do, and no matter how many salads you eat,  you just cannot quite get to your target goal. If this sounds like you, it might be time to consider an alternate action plan, such as fat reduction treatments. Keep reading these incredible treatment tips for excess fat reduction from Abington Aesthetic & Laser Medical Center!
What Am I Getting Rid Of?
To put it simply, those annoying extra pounds are generally just fat deposits beneath your skin, often causing lumpy skin on common places like your thighs, hips, and belly. They are incredibly difficult to get rid of and can stay on for years if not treated properly. Fortunately, there are many ways to reduce excess fat without causing harm to your body.
Fat Reduction Treatments
Liposonix: This fat reduction treatment can be done in one sitting! Liposonix is a medical procedure that uses concentrated ultrasound waves to destroy fat cells that cause cellulite. It breaks these cells down so that your body can easily absorb them to give you a smooth, healthy appearance. This is perfect for getting rid of those fatty, lumpy spots. This is a great option for keeping those pounds off permanently.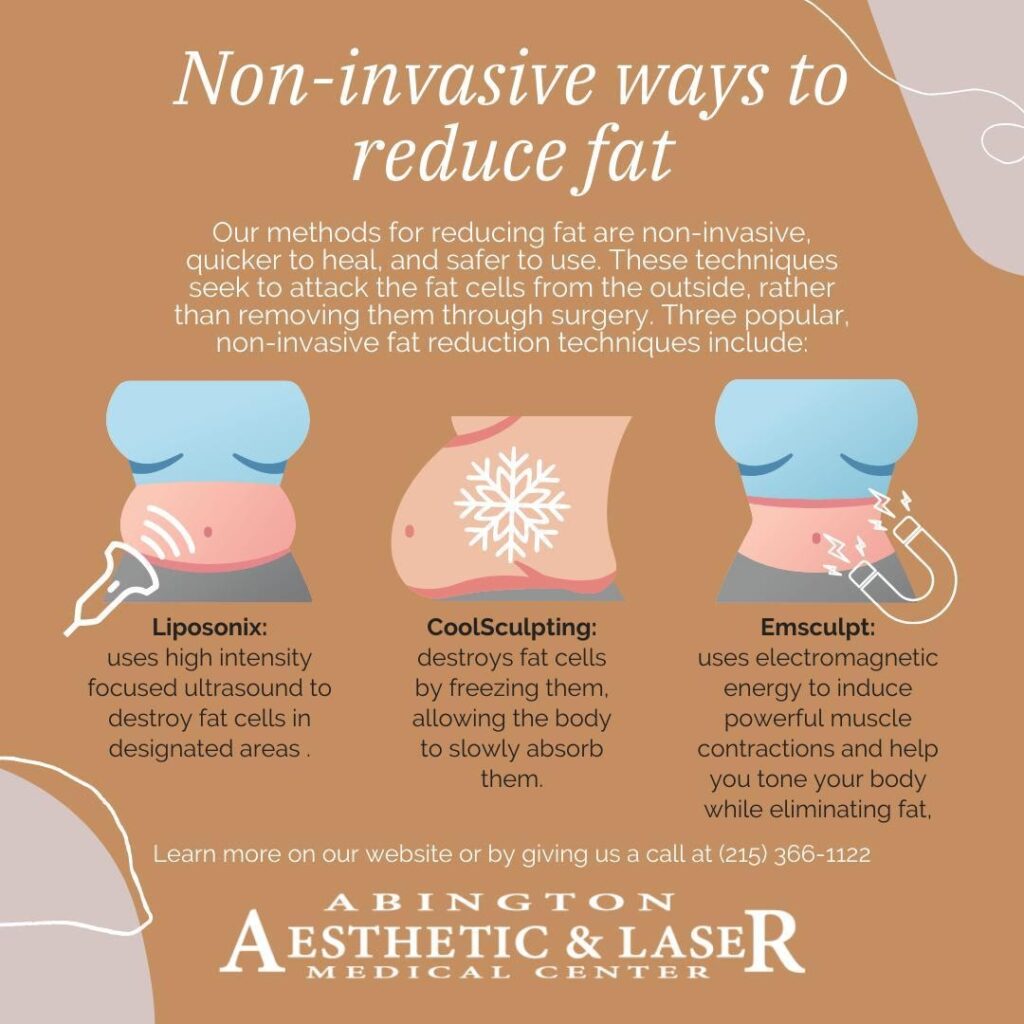 Emsculpt: Emsculpt targets muscles you can't voluntarily exercise to deliver a fat-reducing, muscle toning result! This method is non-invasive and uses a high-intensity focused electromagnetic energy. Emsculpt makes your muscles release fatty acids that overwhelm fat cells, which then causes them to die. Then your body just metabolizes the cells and you can see results.
CoolSculpting: Another non-invasive fat reduction treatment. We love this option because you can quickly go back to your day after the session. CoolSculpting is accomplished by using a contouring device that works by chilling or
freezing the fat of a specific body part. The CoolSculping device then applies suction to the area as it transfers cold temperatures to the fat cells. While you might have to wait a little while to see the results as your body naturally gets rid of the fat cells, you won't have to worry about pain during the procedure. This painless weight loss treatment is a great option for getting rid of that extra fat safely.
Kybella: To get rid of that notorious double chin, Kybella might be the right option. This fat reduction treatment is a bit more extreme than the others on this list because it does involve injection, but Dr. Zelinger ensures your comfort and quick healing. The quick procedure (only about 20 minutes each) helps you reach your weight loss goals by using the main ingredient synthetic deoxycholic acid. Deoxycholic acid is a naturally occurring molecule that breaks down fat. The precise targeting of the injection site ensures results to your chin in a safe way (and permanently).
Get Rid of Extra Fat Now
Get the body you have always wanted with the help of Dr. Zelinger at Abington Aesthetic & Laser Medical Center! Lose those last few pounds with one of our treatment options and book an appointment today!